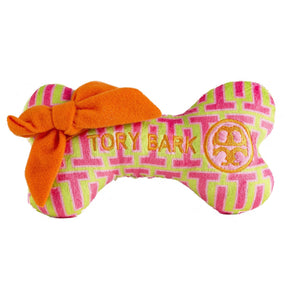 Tory Bark Bone Toy Plush Dog Pet Squeak Toy
Regular price $14.99 Sale
Tory Bark Bone Toy
Tory Bark Bone Toy - Introducing our newest Tory Bark designer parody plush toy from the fashion hound collection.  Tory Bark plush bone toy features a brand new fun, bright pattern. Every pampered pup big or small will want one of these brand new plush bones to play with.  Made from soft plush with a fun squeaker inside. Your customers and their dogs will love how stylish and unique these fun toys are. Treat a special doggie today! 
Measures 7"
Give your kitty or pooch their very own treat. Made to resemble a Tory Burch Bone. YUM! 

Features a squeaker inside for added enjoyment.
If you want to let your pups enjoy playing with the same luxury goods the rest of the family eats, give them this plush dog toy. Executive Pup has a line of exciting, treat-inspired toys made of soft, plush fabric. Check out the other fun snack and drink plush squeaky toy options, we offer, too! 
Made of plush fabric for softness during playtime.
Designed to look like your favorite snack.
Does not contain food or liquid.